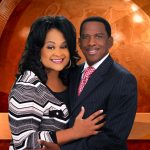 Living Word Christian Center was birthed by Pastors Joseph & Cathy Banks in their family room in 2001. From the humble beginnings, this non-denominational, bible believing, bible teaching church located in Lake Charles, La., has become one of the fastest growing ministries in Southwest Louisiana.
LWCC is a church that is totally liberated from the bondages of tradition and religion. We believe that God is doing a new thing and he is beginning with us. It is our desire to reach all people, of every color and social economic background, and give them the God kind of love. LWCC is an end time harvest church that is getting believers and non-believers Rapture Ready.
Within the first few months of 2001, LWCC purchased several buildings including a 350 plus seat sanctuary. Our future looks very good as we begin our fully accredited bible institute (Life Christian University) which will train people for ministry. We also have a television show (Living by the Word) as well as a successfully planted Living Word Christian Center in Durban South Africa and are accruing more property for future plans. LWCC is committed to bring economic empowerment and development to the North Lake Charles and surrounding area through the preaching and teaching of the Word of God. LWCC is a place everybody is someone and Jesus is Lord. And we are living by the Word!
In December 05, due to continuing growth, and expanding ministries, LWCC purchased prime real estate property in downtown Lake Charles, over 100,000 square feet of buildings, including an 800 seat sanctuary, administrative office complex, 20 plus classrooms, youth and children's church, a fitness studio, and weight room located at 1639 Ryan St. The Dream Center is our multi-family life center which includes our gymnasium, four lane bowling alley, racquetball court, fellowship hall, game room, concession stand, and fireside conference rooms.